EXPERIENCE THE POWER… WHEN YOU RUN WITH THE DARK HORSE
• Integrated multi-media campaigns
• Cutting edge marketing plans and creative designs
• Focused, results-driven strategies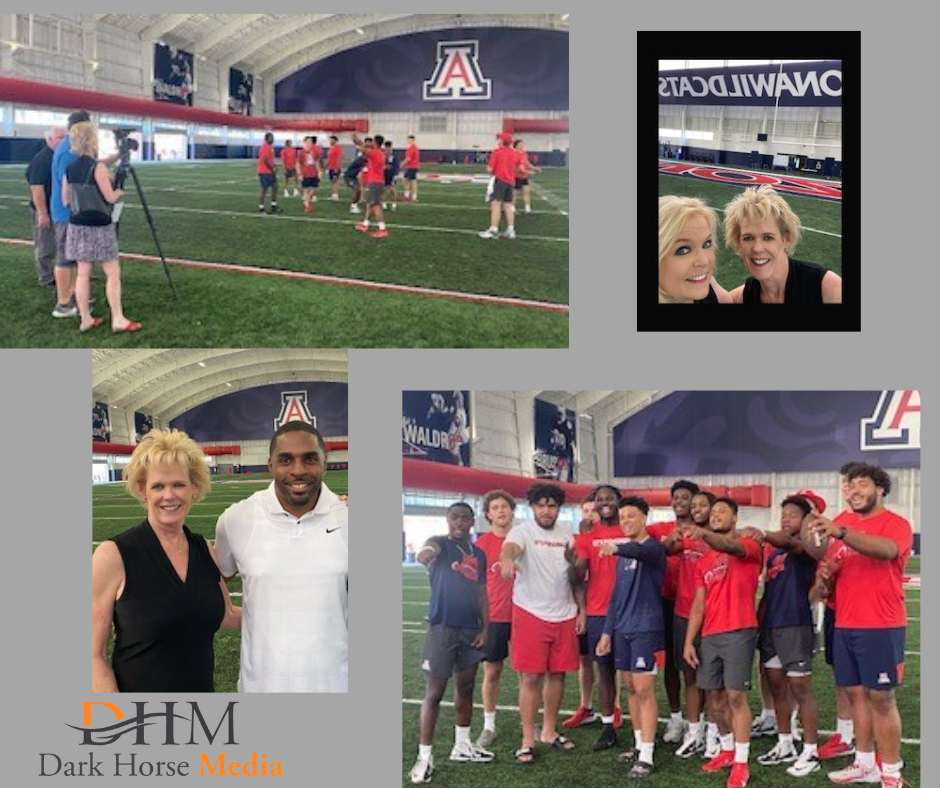 Dark Horse Media – leading the way in sports marketing.
This is the first NIL (name-image-likeness) television commercial (for Pima Council On Aging) with UA student athletes. Looking forward to working with more of these talented athletes. 
If you are interested in learning how to have student athletes star in your next commercial, contact us!
Why Use Dark Horse Media:
When it comes to our clients' campaigns, we go above and beyond to ensure success. We have experience in almost every conceivable form of marketing support and make these available as optional added services to existing client campaigns. We can act as your marketing department, media buyer, or something in between.
Dark Horse Media was incorporated in 1996 by Linda Fahey. Recognizing her experience could deliver results-driven campaigns with cutting-edge creative and strategic tools at better-than-competitor cost, Dark Horse outpaces the competition.
Client success has led to company growth – we put our clients first, and the rest just follows!
Some Words From Our Clients
Dark Horse Media always gets our company's content produced and distributed creatively and efficiently. They help every step of the way, and help keep us on task to meet deadlines. We produce a wide array of marketing materials through Dark Horse, and they never fail to help us reach our marketing goals.
Experienced, knowledgeable, professional, creative – Dark Horse Media, a great team!
Linda and her team at Dark Horse Media do a top rate job. They are dedicated to their clients and so giving of their time and energy. In terms of media coordination, they do a fantastic job. In the past four years, they have helped us to coordinate over 50 nonprofit organizations who have seen a significant increase in their tax credit related gifts over that time.
As talented as they are in their field, Linda and her team are equally as dedicated to the Tucson community and its success.
Working with Linda and her staff has been great. She understands our needs and I know they have our best interest at heart. It has been a win-win partnership.
Dark Horse Media is reliable, innovative and understands the latest trends in public relations. A leader in their industry, Dark Horse, gave my small company the same attention they provide their largest clients. Thank you, Linda for making my company a winner!
We love working with Dark Horse… They have a great creative team and work extremely hard for their clients… A top notch Agency!
Linda and her team took our company to the next level! Her dedication and expertise are top-notch! Highly recommend!
Dark Horse Media has exceeded our expectations with innovative ideas and results that work.
Great agency! Great people! Super creativity!
Dark Horse Media is amazing when it comes to media planning and buying. They are knowledgeable, friendly and care about each client. I can't say enough good things about Dark Horse Media and their team.
Patio Pools and I have been working with Dark Horse Media for over 3 years now. Linda and her team are the absolute best! Not only do they come up with great innovative ideas they follow through with them. They have completely taken the stress and worry out of advertising! I highly recommend for any business.
Dark Horse Media is an awesome agency 🙂
Dark Horse Media was quick to respond to my inquiries and provided creative print material for my project. Great company to work with!
Prompt and efficient customer service that exceeded all expectations!
Linda and her team at Dark Horse Media consistently deliver top notch work! I feel fortunate to work with them!
I highly recommend this fantastic ad agency to any business that wants to grow. I have worked in Advertising for over 25 years including, TV, Radio and some time at an Advertising agency in Las Vegas.  For the last 10 years, I have lived my passion helping rescue and shelter animals with animal welfare publications and began The Tucson Dog magazine in July of 2017.  I was not as familiar with the media in Tucson so I needed help navigating that area for my business. I met and was very impressed with Linda and her staff so we hired Dark Horse Media to help us navigate the Tucson market.  I cannot say enough good things about Linda and her team.
I have been working with Dark Horse for 21 years on the creative team, helping to develop creative designed to get attention and to get results. I know the DHM team has a passion for what they do and truly cares about their product.
The best ad agency in AZ! Experienced, talented, and honest. Dark Horse achieves results quickly & efficiently. Thanks Linda!
Wonderful agency to work with, first class.